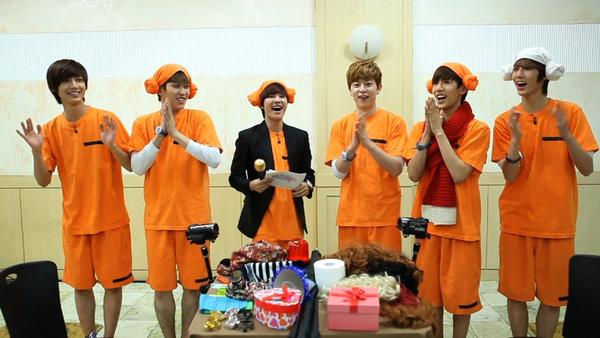 [Title] <Boyfriend's Hello Baby> Episode 3! What is the reason behind Jeongmin's outburst of tears, causing him to film with tears drenching his face?
       New Hallyu idol Boyfriend's atmosphere setter, Jeongmin, cried really hard (during Boyfriend's Hello Baby episode 3).
      The members, in hoping to give a surprise birthday party to Jeongmin who was having his birthday on the 2nd of January, set up a plan in which Minwoo took Jeongmin's clothes out of the bathroom with him while Jeongmin was still washing up, causing Jeongmin to be trapped in the male bathroom.
      Jeongmin, who reached the location of the birthday party after much complications, got taken aback by the birthday cake and seaweed soup that the members and babies prepared, and couldn't stop his tears from flowing. Jeongmin said, "I didn't think of it all. This is a party that will remain in my memories for the rest of my life," showing his gratitude to his members' display of friendship.
      On the other hand, on this day of broadcast, 10th generation high school idols Boyfriend will perform a television musical, challenging their virgin kiss scene, and Kwangmin, Youngmin and Minwoo will also reveal their looks that are even more feminine than females, making fans' hearts flutter. Boyfriend's "Hello Baby" episode 3, please tune in to KBS Joy on the 18th of January at 11 PM to watch.
translated by: honeyrinayu | weloveBoyfriend.wordpress.com (via J-Melody)