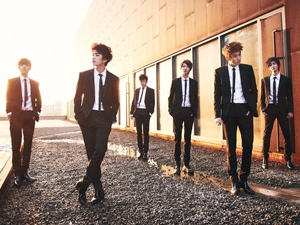 Omitted the parts that have got to do with their Taiwan fan meeting. Their Taiwan fan meeting will be held on 21st April 2013.
[Title] "Little boyfriend" is back! BoyFriend having a romantic date with you in Taiwan
          Although Flower boy boy band BoyFriend who gave their overseas first date to Taiwan has yet to debut in Taiwan for 300 days, due to their strong ability in dancing and singing, they let Taiwan fans see the power of youth in the top 3 rookies of 2011. In November of 2012, Boyfriend returned extravagantly with their first full length Korean album "Janus", and their music style and fashion style have overturned their previous cute flower boy image, hoping for everyone to be able to feel Boyfriend's transition from boys to men both visually and through their song by having stage costumes which are eye-catching past century royal clothing, in addition to having a smokey feeling throughout, having a huge change overall. In late November, they released their second Japanese double A-side single <Dance Dance Dance / My Lady ~Fuyu no Koibito~>, attaining a good performance of 3rd on Japan's Oricon Weekly Charts, also letting fans who are not used to Boyfriend's new style to savour in the return of their "little boyfriends".
          Boyfriend has prepared to bring everyone even more charisma in 2013, participating in the new season of "Hello Baby" and having the experience of being little fathers for the first time, in which the interaction between big boys and little cute babies is worth anticipating. They released a repackaged version of their first Korean full length album and held a comeback, bring "I Yah" which has a strong beat and a charismatic dance, entering the charts of music shows in Korea, ready to impact the Korean music industry.
source: MTV Taiwan
translation: honeyrinayu | weloveBoyfriend.wordpress.com