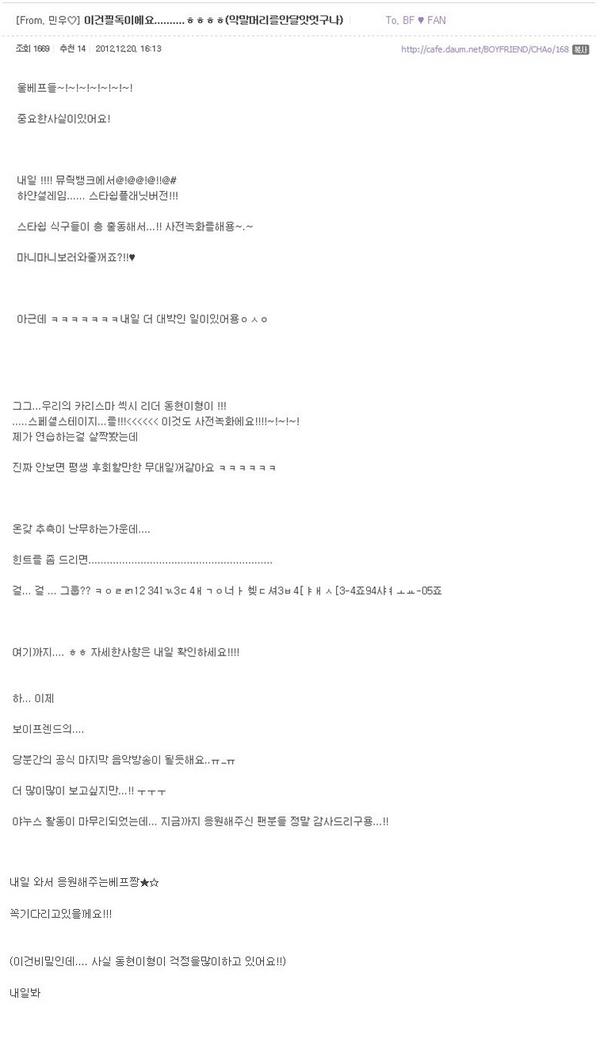 [From. Minwoo♡] This is a must read……….hehehehe(To get those bad thoughts out of your head)
Our BestFriends~!~!~!~!~!~!~!
There is an important thing!
Tomrrow !!!! On Music Bank@!@@!@!!@#
White Love…… Starship Planet version!!!
The whole Starship family will be coming out …!! It will be pre-recorded~.~
A lot of you should come and watch us okay?!!♥
Ah but kekekekekekekeTomorrow something more daebak will happenㅇㅅㅇ
keukeu…Our charisma sexy leader Donghyunie hyung !!!
…..Special Stage…is!!!<<<<<< This will also be pre-recorded!!!!~!~!~!
I saw a bit of their practice
You really will regret it forever if you dont watch this stage kekekekekeke
There will be a lot of speculations coming up….
I'll give a little hint……………………………………………………
Girl… girl … group?? ㅋㅇㄹㄺ12 341ㄳ3ㄷ4ㅐㄱㅇ너ㅏ 헺ㄷ셔3ㅂ4[ㅑㅐㅅ[3-4죠94샤ㅕㅗㅛ-05죠
Up till here…. hehe Check it out tomorrow for more!!!!
ha… now
Boyfriend's….
Will officially have our last music broadcast for now..ㅠ_ㅠ
We would want to meet a lot more of you but…!! ㅜㅜㅜ
Janus activities are finish… We're really thankful to the fans who cheered on us up until now…!!
Tomrrow come and cheer on us BestFriend jjang★☆
I will be waiting!!!
(This is a secret…. Actually Donghyunie hyungie is really worried right now!!)
See you tomorrow
source: Boyfriend's Daum Cafe
translations by: weloveboyfriend.wordpress.com
[translations might not be 100% accurate]